San Francisco Beer Week is finally upon us! I remember going last year to a few events and being in awe of how many beer lovers there were in the bay area. This year it expanded even more and I was there to witness it firsthand at the Opening Night Gala.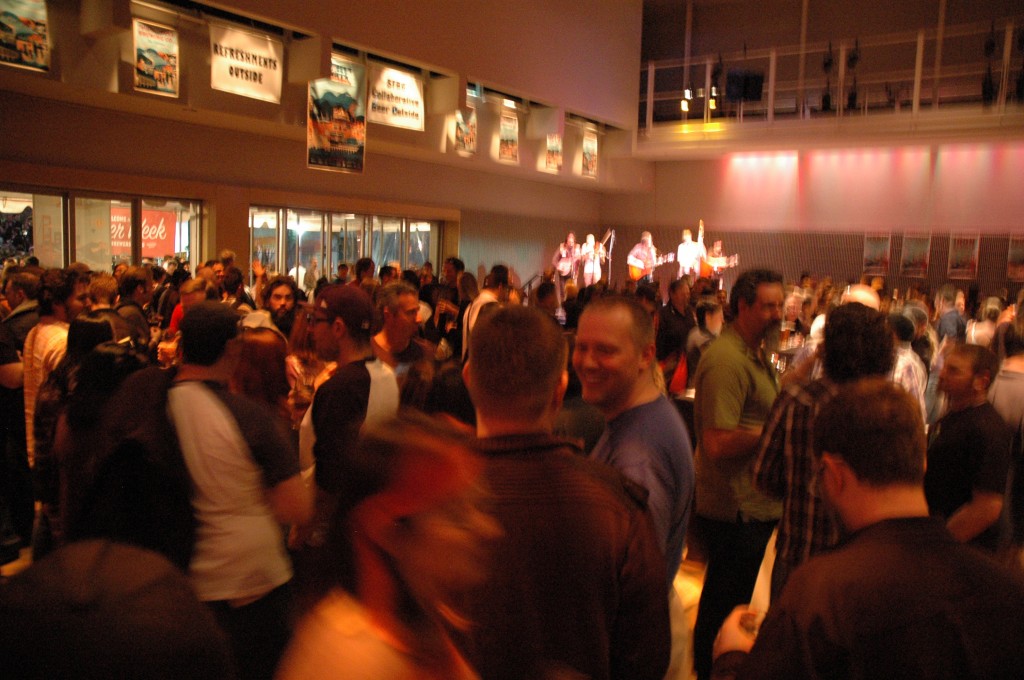 The craziness of the photo above gives just a hint at how many people were at this event. Once again it took place at Yerba Buena Center for the Arts, but it seemed as if there were twice as many people as last year. This event was sadly oversold and in my opinion, poorly planned by the SF Beer Week folks. They had a VIP entrance time of 3:30-5:00 pm and at 5:00 pm, opened up to the plebeian folk, such as myself. I arrived at 5:20 pm and saw the queue wrap around the building. As I was walking by the entrance to the end of the queue, I heard them say that they were at capacity and would have to hold the line. At capacity?! 20 minutes after you've "officially" opened?! Absolutely ridiculous. I met a friend who was about 50 people back from the front and was able to stand with him, but we still waited about 35 minutes to actually get into the event. One thing the organizers did decide to do was to allow refunds to people who did not want to wait. While I thought this generous of them, it seemed like if they hadn't oversold the event, they would've been okay. I later found out that they had upped the amount of tickets 3 times to a total of 1600 tickets. C'mon guys, if you're going to sell that many, get a bigger venue. My suggestion for next year is to do it somewhere like Bill Graham Civic Auditorium. Then you can open it up to even more folks! *hops off soapbox*
Once inside, the event was enjoyable. There was a great show of breweries, some local and some from other areas of California; all the SF Breweries such as 21st Amendment, Social Kitchen and Brewery,  Speakeasy, Magnolia, Thirsty Bear as well as other "local breweries" such as Linden Street, Iron Springs, Moylan's, Marin, Russian River, Lost Coast, Eel River, Lost Coast, etc….the list goes on and you can check out their website to see who was there.
As is the case with most beer galas/festivals, the actual selection of beer ranged from great to horrible with a median of "just okay". The highlight for me was probably Bunny's Toe from Triple Rock Brewery over in Berkeley. It's an American Style Barleywine that had a really lovely toffee smell/flavor and a well balanced hops characteristic to the malt. I'm embarrassed to say that I've actually never been over to Triple Rock Brewery, although that will change later today when I go over for their Sour Beer Event.
Highlights of the event for me? Mostly just hanging out with awesome people, which included meeting Sean Paxton (pictured below with Andrei) as well as the guys from Mission Gastroclub (who strangely seem to be following us from event to event…hehe). I also got to meet a few folks from my Bay Area Beer Bloggers group – so nice to put faces to names (also pictured below).
Overall, the gala was a lot of fun and I look forward to the event next year….hopefully in a bigger venue!