On my recent trip down to San Diego, I stopped by Toronado to check out the selection of beers.  Similar to its sister location in San Francisco, they have a wide variety of draft and bottle beers.  As it was a warm afternoon, nothing seemed more fitting than a saison.  A saison is a style of beer from Belgium that is a delicious complement for a warm, sunny day.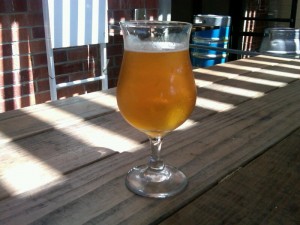 Saison Du Buff is a collaboration of the guys behind Dogfish Head, Stone Brewing and Victory Brewing.  I was instantly drawn to this beer since it contains parsley, sage, rosemary and thyme.  And like that classic Simon and Garfunkel song, it didn't disappoint.
As you can see, it's a beautiful honey colored beer.  What you can't see in this picture is that it had a lovely, meringue like head.  Despite having parsley, sage, rosemary and thyme in it, I couldn't really distinguish these herbs in the smell or taste.  This really smelled and tasted like a traditional saison, citrus and cloves with a dry finish.  The thing I love about Saison Du Buff (and saisons in general) is that it's simple and refreshing.  At 6.8% ABV,  this could be a session beer…especially on a warm, sunny, not a care in the world, San Diego afternoon.
Rating: 4 out of 5 pints