It's still SF Beer Week! Woo hoo. Last night we decided to check out City Beer Store for Meet The Brewer: Lost Abbey and Port Brewing. Seeing as I'm a huge fan of the beers they make (their Angel's Share is one of the beers that made me truly fall in love with beer) and I knew it would be a great setting to drink some of their beers and meet the legend that is Tomme Arthur.
I arrived early in hopes of getting a seat (score!) as well as getting a chance to catch up with my friends, Neha and Nishant (pictured below with Andrei). They couldn't stay for the event but we shared a bottle of Lost Abbey's Gift of the Magi, in honor of the event.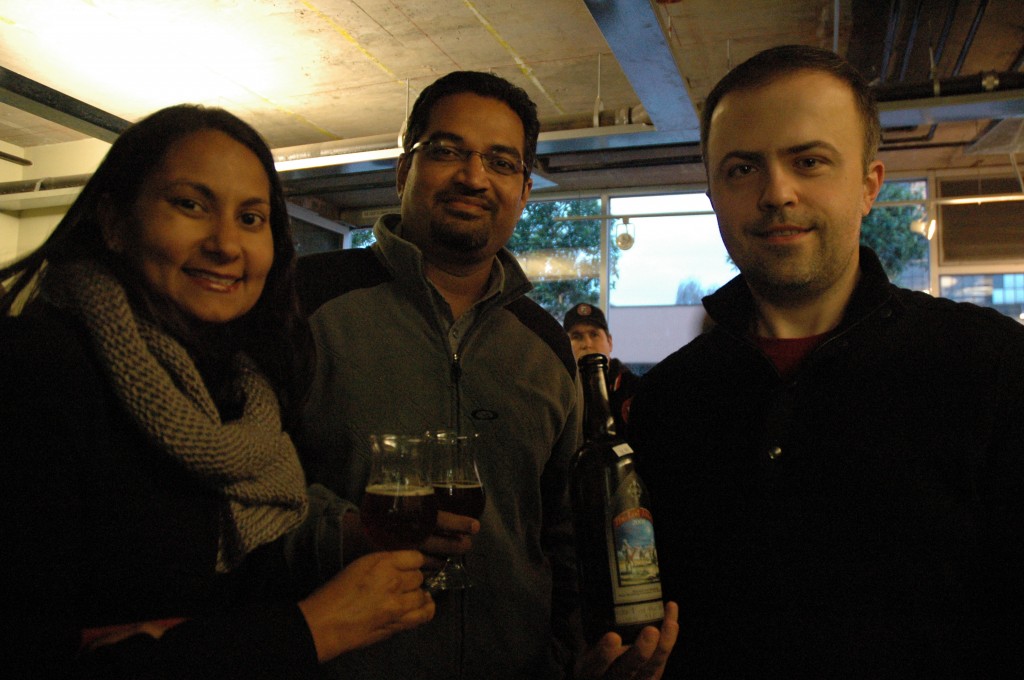 By the time six o'clock rolled around, the place was getting busy. All the taps had been switched to Lost Abbey or Port Brewing beers (listed above in the picture up top) and we were making our way through them. All of them were delicious, and it was a treat to have some of the ones I'd had in the bottle, on tap. I'd say the favorite for me was still Angel's Share, although the Cuvee de Tomme was a wonderful treat as well (for you sour lovers, this beer is for you!) After a couple beers, I plucked up the courage to go talk to Tomme and Matt from the brewery. They were very gracious and I had really great conversations with both of them (hopefully without coming across as too much of a fan girl, LoL).
By about 7:30 the event was buzzing and City Beer was at capacity for a bit (see below).
I went to check the line outside for a friend and I think I got this poor guy's hopes up….I had to break it to him that I wasn't leaving, but he understood (and arrived inside shortly thereafter!)
I have to say, Craig and Beth did an amazing job of getting people their beers in a timely and courteous fashion. You'd think they'd be flustered, just being the two of them, but they always looked calm and happy to serve. I took this picture of them below and it's a bit blurry (I think all the double digit ABVs were getting to me at this point)
Throughout the evening I had a chance to speak to many people, including Nate from Healthy Spirits (pictured below on the left).  If you haven't been to their store in San Francisco, go now! They've got an amazing selection of beers and I love them specifically because they are within walking distance of where I live.
Overall the evening was probably my favorite of the week so far. It was well organized, with great beer and people. Congrats to City Beer for putting it together and pulling off such a great event!